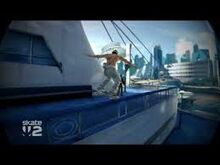 Our deck is almost finished, but it still needs fine tuning!
Pros are sayin', "this article needs more paint or graphics so get to it!"

Please expand the article as well as you can!
Waterfront is a part of New San Van located down south. It has a lot of benches and cruise lines. Also the SV stadium , GvR park and Lighthouse skatepark and Lindley Tower are here too.
The following events takes place in Skate 2. The following are in no order.
Locations of interests
Edit